Set in the heart of the beautiful Norfolk countryside you will find one of the best 9-hole golf courses in the region. Dereham Golf Club is a wonderfully manicured parkland course set in one of the warmest and sunniest districts of the UK. It is a friendly and sociable Members' Club that welcomes societies and visitors who wish to pay a green fee. Situated with the delightful North Norfolk coastline close by, it is an ideal place to fit in a few holes whilst visiting the area.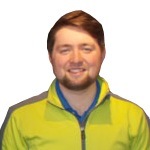 William Cross - Head Professional
Will has been at Dereham as both a member and Professional since the age of 12. He has represented Dereham in club competitions and matchplay tournaments through his amateur career. Will has come to the club with a great reputation with members here at Dereham and has a very good reputation with his past golf clubs within the county. He has organised training for the juniors consistently with weekly group sessions and holiday camps throughout his coaching lifetime. With his past employers Will has been the custom fit and repair expert so if you need any adjustments or fitting with your golf clubs he will always be there to help. Will also has a good playing record behind him having won numerous county competitions both as an amatuer and Professional and competed at British College events whilst at Easton Colege.
---